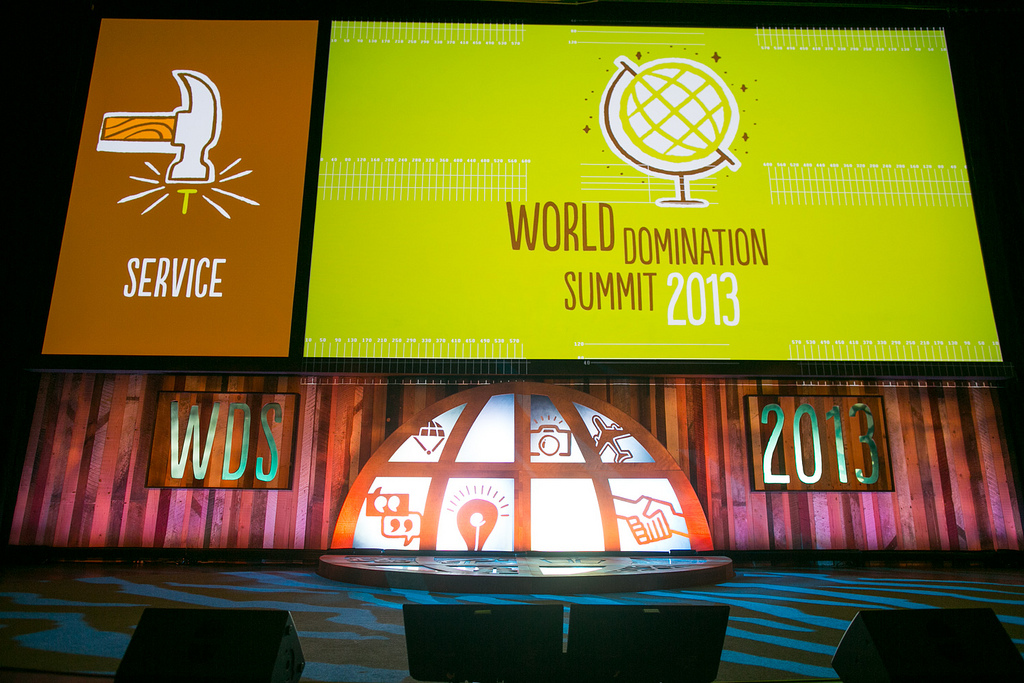 After attending World Domination Summit last year for the first time, I posted the 7 lessons I learned and the goals they inspired me to set and stated:
Learning a lesson doesn't mean anything if you don't implement it. 
The post went semi-viral, motivated others, and most importantly, held me accountable.
Today, I'm sitting in Portland 1 year later at WDS 2014.
So, how'd I do with my goals from last year?
Let's check out the report card!
Lesson #1:  Surround Yourself With People You Admire
My belief in this statement is even stronger this year than last.  Achieving success is hard enough, but it's nearly impossible if you try to do it alone.
I've been very fortunate, through my podcast and through reaching out to others, to have met some awesome people over the last year and strengthened bonds with others.
I truly believe this is one of the most important factors in many of my successes from the past year.
My goals from 2013:
Create a mastermind group to hold each other accountable.
Grade: F
Well, not exactly the best way to start out, but there is no denying the fact that I'm currently not in a mastermind group.
I've dabbled in some and toyed with starting a few, but haven't done it.
Email each person at least once a month to maintain contact.
Grade: B
Staying in contact with people I met last year at WDS or people I've met this year has been one of my strengths.
Almost every single bond has become stronger, and I've had some amazing experiences helping people I admire travel for cheap (Scott, Steve, and Jacob, among others).
In return, I've gotten invaluable advice and guidance for helping build my site and my business.
Lesson #2:  Stop Doing It All Yourself, Because Others Can Do It Better
This was a quote from Chris last year, and when I interview people about the stepping stones in their business, almost every single person points to leaning on others and hiring help as THE step that helped propel them.
I knew this was a step I had to take this year, but it wasn't an easy one.
My Goals from 2013: 
Bring on an intern
Grade: A
After some fits and starts, I finally got my act together and put out a call for part-time help in January.
I was swamped with amazing applicants, and after sifting through them all, I've been able to bring on a few people part time to help me with the things I'm not good at.
Chris has been an absolutely amazing podcast editor, and Tiffany is Ms. Do-It-All.
I couldn't be happier with how it has worked out.  It's amazing how talented other people are, and I'm excited to have them on board and to bring on others as EPoP continues to grow.
Outsourcing the design side of the website, such as new email opt in boxes.
Grade: C
After interviewing John from The Democratic Travelers and meeting up with him in Philly, we decided to work together to redesign the EPoP site.
That was in December; I've been dragging my feet, and the design is still not complete.
Yes, it's half way done and yes, I've hired a professional (and a really good one at that), but I've not been on top of it as much as I should have.
Lesson #3:  Embrace Every Chance You Have to Meet New People
WDS is the perfect place to do this, but when you get home you stagnate, feel comfortable, and end up not getting out of your comfort zone and meeting new people.
I knew that going in, which is why I set the following goals for myself.
My Goals from 2013:
Go to a Meetup.com meeting for entrepreneurs in the Philadelphia Area.
Grade: F
I haven't gone to a single one all year.  I talked about going to one once, but that's it.
If there isn't one that fits for me…start one!
Grade: C
I organized Scott Dinsmore's Live Your Legend Local Philly Group, and we had an amazing meetup in January with 20 people showing up in below freezing temperatures.
But then, both because I was traveling and because I was lazy, we never had another meeting.
I put forth the effort to organize the first one, but I let it fizzle after that, and I'm definitely not proud of that.
Lesson #4: Don't Let Your Doubts and Fears Cloud Out Your Dreams
Most people doing the things you want to be doing aren't smarter or more talented than you.  The difference is that at some point, they decided to go for it.
They had a dream, they went for it, and most of the time, they succeeded.
I had two big dreams after leaving WDS a year ago.  Here's how they shook out.
My Goals from 2013:
Launch Frequent Flyer Bootcamp before August.
Grade: A+
Frequent Flyer Bootcamp is one of the things I'm most proud of.
It truly is a win-win-win.
Bootcampers learn skills that will help them travel free for the rest of their lives, I have a blast teaching, and people are traveling all over the world to their dream destinations!
To date, we've run 4 cohorts of FF Bootcamp since last August, and each time it has gotten more popular.
In fact, last time we sold out the 30 spots!
If you're interested, I'll be announcing signups for the 5th cohort sometime later this summer, so make sure to join the email list for first crack at signing up.
Build and launch my most ambitious project ever, tentatively titled The Action Initiative. 
Grade: D
This is an incredibly hard grade to give.
No, I haven't been able to launch it yet.
No, I haven't even been able to create the site yet.
And no, I haven't received funding for the project yet.
But I have taken the initiative to create a teaser video for it and enter it in startup competitions (though I haven't won).
And I have personally been putting money aside with the idea of potentially funding the project myself.
The hardest decision is knowing what to do next, and since I was hoping to be in the process of building by now, I have to give myself a failing grade.
Lesson #5:  Impress Less People, Make Deep Connections with More
Connecting with people seems to a be a bit of a theme here, eh?
Last year, Donald Miller told us to stop worrying about what everyone else thinks, and do what we feel is right.
By doing that, we'll naturally find the people who can help us the most.
My Goals from 2013:
Goal:  Be even more open and more honest in my posts and less worried about everything being perfect all the time.
Grade: B
I've definitely made the conscious effort to not only be more consistent in my posting (podcasts on Tuesday, posts on Thursday) but also to be more open.
To let my personality shine through.
To be very transparent in how I took this site and made it in to a business.
And to provide a roadmap for others trying to do the same thing.
I wrote about my struggles and the time I lost $6k on my birthday in my Thanksgiving Thanks post. 
I wrote about how two funerals reshaped my beliefs on travel.
And I wrote about how I conquered the single biggest obstacle in my life but how I wasn't coping well with stress.
The response from you guys has been overwhelming, and I plan to continue to share my journey honestly and openly (all while hopefully cutting down on the incredibly long time it takes me to write a post).
Lesson #6: Just Ask
How can something so simple be so hard?
I have yet to figure that out, but as you can tell from the lack of progress toward my goal, it's something I struggle with.
My Goals from 2013:
Ask to become a keynote speaker at next year's World Domination Summit (and provide enough compelling arguments to make it work)!
Grade: F
This was, admittedly, a pretty audacious goal.  But those are the best kind.
Unfortunately, I didn't take any of the advice that I wrote last year.
Had I asked and been turned down, fine.
Give myself an A for effort.
Or had I asked and been told yes, even better!
But what did I do?
Nothing.
I didn't ask.
I never even inquired about it.
If I had, who knows what would have happened?  Maybe I would be leading the Travel Hacking Academy session.
Or maybe I'd be on the big stage.
Instead, I'm sitting here having to give myself an F.  Bad form, Travis!
Lesson #7: Give Yourself Time and Space to See the Forest Through the Trees
Last year, Darren Rowse of ProBlogger talked about "creating space to observe sparks."
To not get bogged down by mundane, everyday tasks and to focus your energy on big projects and look at the big picture.
I've never been obsessed with Facebook or Twitter, but email has always been my vice.  Hence, my two goals.
My Goals from 2013:
Only check email twice a day, at noon and 5 pm.  And never check it first thing in the morning, where it becomes a time trap, or on my phone, where I can't respond and it creates "open loops."
Grade: C- 
I've gotten better, that's for sure.  There were even days that I stuck to the "email twice a day, never in the morning" goal.
But more often than not, I allowed these "time sucks" to take too much of my time and dull my creative spark.  You're not going to believe it, but I actually just checked my email in between writing these two sentences!
Moving forward, this will DEFINITELY be a major goal until I find a schedule that works for me.
Take 15 minutes to exercise directly after checking my email at noon, then come back to the task at hand refreshed.
Grade: B-
I'm giving myself a bit of leeway with this one.
No, I haven't followed the letter of the law on this one and exercised directly after checking email at noon (mainly because I'm not checking email at noon).
However, I have found two activities that have allowed me to clear my head, and which I've been doing during the day or evening when I've felt stressed.
One is biking.  Pretty normal, right?
The other is archery.
Go ahead and laugh, I wouldn't believe it either.
My dad is an avid hunter, and while I don't really care too much about hunting, specifically, I have found that going out and shooting my bow during the middle of the day (it helps to have a big backyard) is one of the most relaxing things I can do.
It clears my mind, gets me outside, and helps me focus.
And if I ever get stranded on an island with just a bow, I might not even starve to death!
Final Word(s)
Looking back on the things I wrote last year made me aware of how many things I still need to accomplish and focus on.
But, in the spirit of always being positive, I also see how far I've come.
It also made me realize how many opportunities pop up that I never could have envisioned.
The Paradise Pack, one of my biggest projects of the last year, was not even a twinkle in my eye last July, and the Extra Pack of Peanuts Travel Podcast, which was just starting out last year, has become one of my most successful ventures.
Many people overestimate what they can get done in one day, but underestimate what they can get done in a year.
I didn't achieve everything I set out to do (and I had some colossal flops) but I'm going to World Domination Summit this year better than I was last year, and that's something to be proud of.
What were some of the goals you set for yourself last year, and how have you measured up?  Let me know in the comments below!