Traveling and eating go hand and hand. Depending on the country, it can be difficult to find inexpensive food.
Or perhaps you are dying to try that dish from a food cart on the side of the road in Mexico but you're not sure if it's safe. Here are our tips to save money and stay healthy while traveling.
How To Eat Cheap
1. Free Breakfast
If you stay at a hotel or guest house that has breakfast included then you have more money to spend on lunch and dinner. We also try to eat enough at breakfast to fill us up for a long time. This way, we aren't buying lots of snacks throughout the day.
2. Pick One Big Meal Per Day
In order to save money, be smart and try to plan out your meals. If there is a more expensive restaurant you are dying to try, then make that your big meal of the day and eat something lighter and cheaper for your other meal. We do this quite often and will even buy a few small things at a grocery store or a bakery in order to save our budget and appetite for a bigger meal.
If you decide you would rather have a big lunch (Spain sytle), then splurge for lunch and have a light dinner. It really makes a difference if you stick to this rule.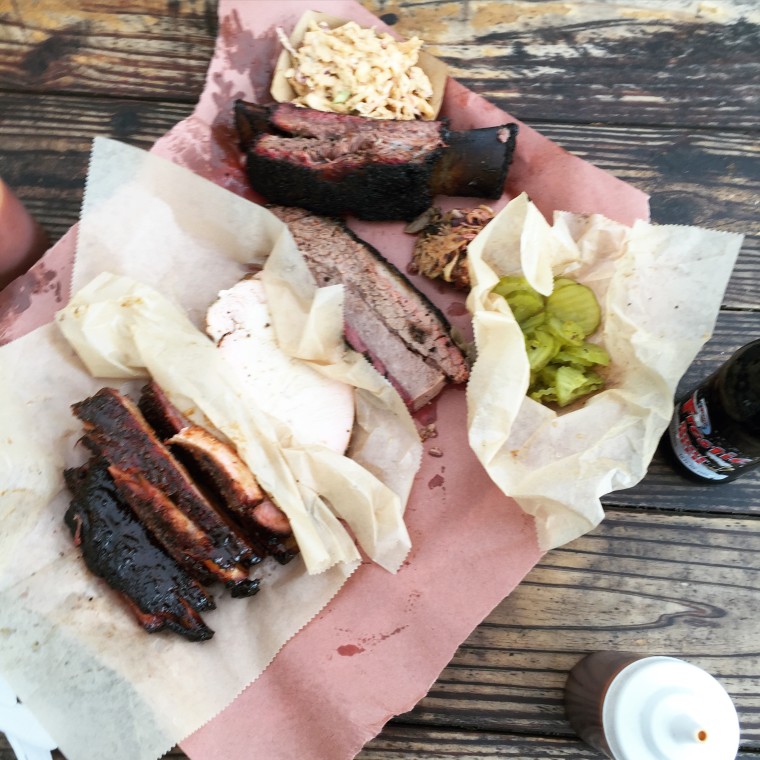 //We ordered $60 worth of bbq for lunch from La Barbecue in Austin and we didn't need to eat much for the rest of the day!//
3. Lunch Specials
Lunch is usually cheaper then dinner, especially in the United States. If you plan your big meal at lunch time then you might be able to save some extra cash, which could be used for some happy hour drinks.
4. Avoid Eating in Touristy Areas
If your plan for the day is to visit museums or historical sites, don't go hungry! Eat before you leave so you aren't tempted to buy overpriced items near tourist attractions.
Some examples we've encountered: Buying a bottle of water at shops around the Duomo in Florence which were twice the price as on a side street. Cafes in museums are always more expensive then ones on the street.
If you are too hungry to find a recommended restaurant near a tourist attraction, just wander a few blocks away and you will be sure to see a drop in prices.
Bonus: The further you wander away from touristy spots the better the restaurant! Restaurants in heavily trafficked tourist spots don't have to be good because most people only go once while they are visiting. They don't have to rely on repeat customers and their menu usually shows it.
5. Avoid Hotel Restaurants
The food is usually more expensive and not as good, especially at chain hotels. Some hotels have really nice restaurants that might be worth the splurge but it is best to research this ahead of time.
6. Avoid Restaurants with Many Languages
If you see a restaurant with a huge menu outside written in multiple languages then they are probably overpriced and do not have quality food. These places usually specialize in various western dishes – pizza, pasta, burgers as well as the local food. It has been our experience that none of the food is done very well in these establishments.
7. Eat around Colleges and Universities
These are the places that cater to people with a budget. Students want to eat as cheaply as possible, so you can usually find some delicious, inexpensive joints around universities.
8. Go to Happy Hour
You would be surprised how many countries have happy hours. In Italy they call it aperitivo – which usually means you buy one drink at regular price but it comes with free food. We even found happy hours in Paris!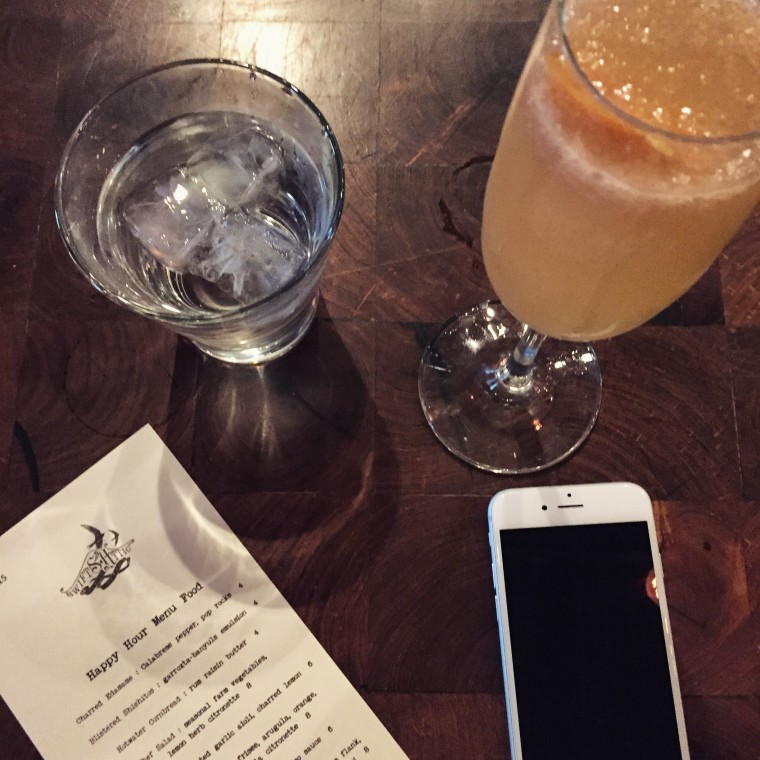 //Happy Hour at Swifts Attic in Austin, Texas//
How to Eat Safe
9. Eat When the Locals Eat
The food is always fresh when local people are eating. The time varies according to the country but if you make sure to eat at the same time as all of the locals then you will be less likely to get sick later.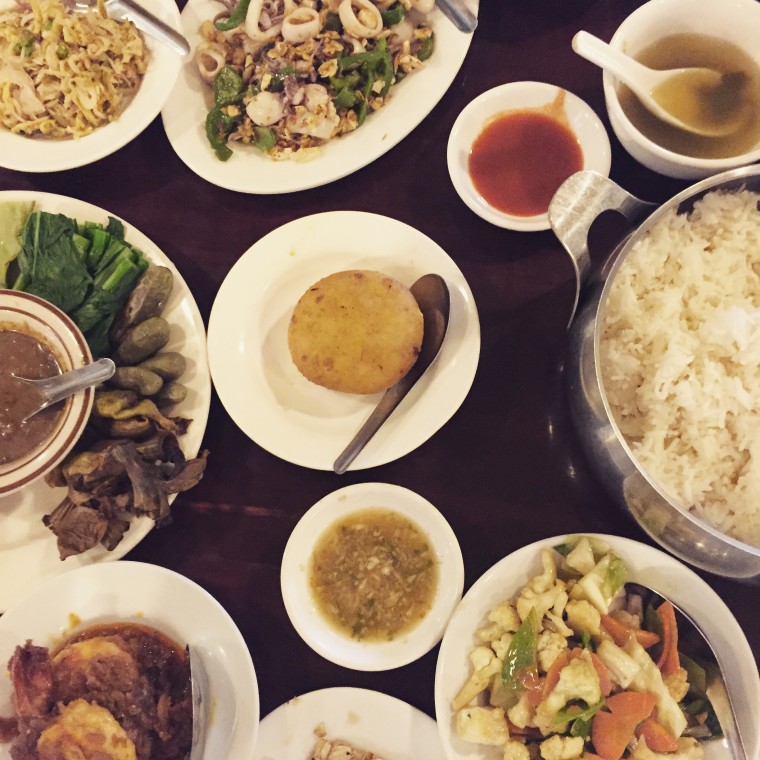 //A smorgasbord at Feel Myanmar Food in Yangon//
10. Street Food is OK
Just be cautious. You can usually tell if the food is ok to eat from the way it is being prepared or the way it looks. The same rule as number 9 applies here. If the locals are there eating it, then it is usually ok.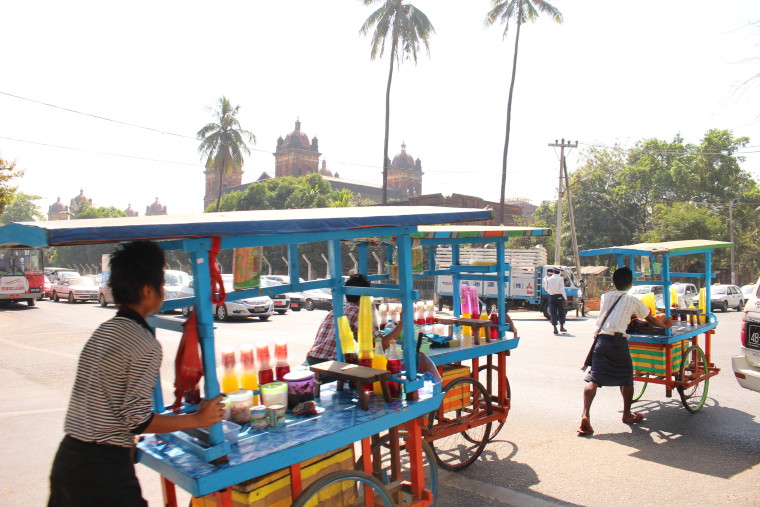 //Go ahead and buy food from a cart//
11. Eat at a Crowded Place
This is usually a sure sign that the food is not only good, but most likely safe and fresh as well.
12. Look for Clues
Check the menu and look for signs (actual written signs) that advertise the food is fresh, or the produce is washed and ice is made from purified water. You can find local and organic restaurants all over the world and most restaurants want to advertise this fact.
13. Don't Drink the Water Unless it's Safe
In certain countries it is difficult to find clean water, in this case it is best to drink bottled water. This is not ideal for the environment and there are other options that require a little more work.
You can carry water purifying tablets with you and manually purify the water. Or you can purchase a water bottle that comes with a water purifier installed in it – Water To Go Bottle.
Also, in some third world countries you can find purified water stations that you can use to re-fill your water bottles.
14. Only Eat Fruits That You Can Peel
This is not guaranteed but it is a pretty common rule of thumb with travelers. If you can peel off the skin that means the fruit hasn't been contaminated and is most likely not going to make you sick.
However, to be honest, we can't usually pass up a fruit shake in Asia that has strawberries in it!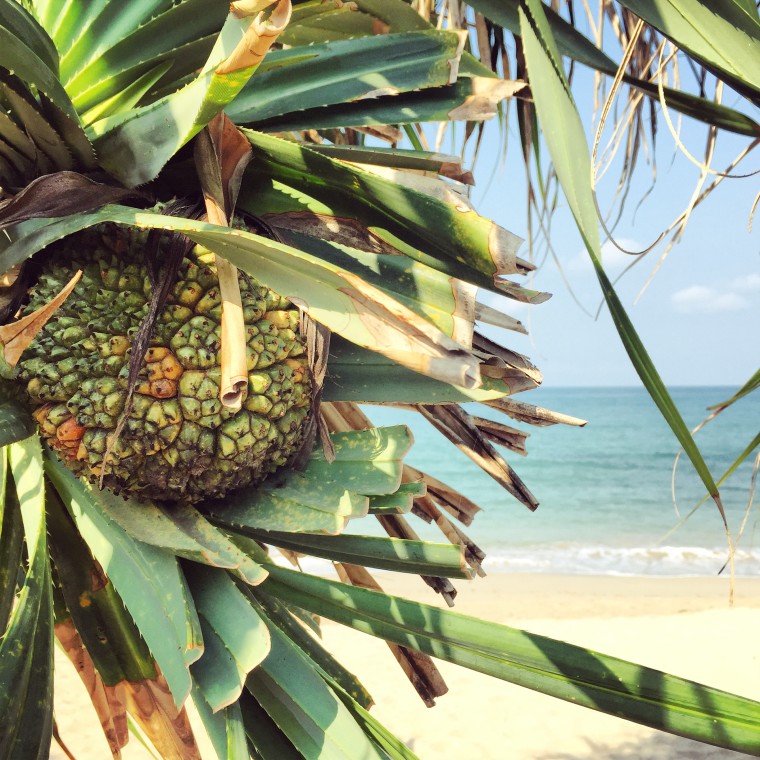 //Fruit that can be peeled is ok.//
//In full disclosure, we bought and ate this watermelon off the street in Yangon, Myanmar//
15. Take Probiotics
Buy some before you leave, or you can usually find them in yogurt form in most grocery stores around the world. We love buying them at any convenient store in Thailand for less then 50cents. This might not help everyone, but it can't hurt! You can also bring antibiotics or indigestion tablets with you, which can help if you get sick.
How to Eat Well
16. Ask the Locals
Insider information is always the best! Everyone loves to give recommendations and most people like to get recommendations.
How do we do this?
Ask the owner of the apartment or guest house where you are staying. Ask taxi drivers – they usually know the best places to eat. Also, you can ask the server or owner at the restaurant you are at for another recommendation. They usually don't mind spreading the foodie love.
16a. EatWith
Use EatWith – a new website that sets you up with local people making delicious food. You can read about our EatWith experience here.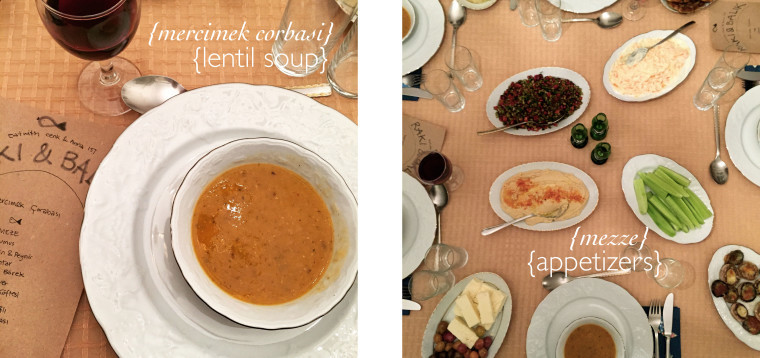 //Our EatWith experience in Istanbul//
16b. Food Tour
Go on a food tour in the city you are visiting. We did a walking food tour with Walks of Italy in Florence and had a fantastic time. Anytime you are drinking wine at 10am is a great time in my book!
17. Use TripAdvisor and Yelp
You can use this as a reference point. We often pass a restaurant and check the reviews on these sources. But it is not the end all and be all so remember to get out and explore in order to find some new unique places as well.
18. Eat the Local Food
If you are in Thailand, it might be hard to find good Mexican food. Trust us, we've tried! So it is best to eat the food that the country is known for. However, if you just need some comfort food make sure to do some research ahead of time. This way you are more likely to actually eat the best burger in Chiang Mai (Rock Me Burgers) or the best pizza in Playa Del Carmen (La Famiglia).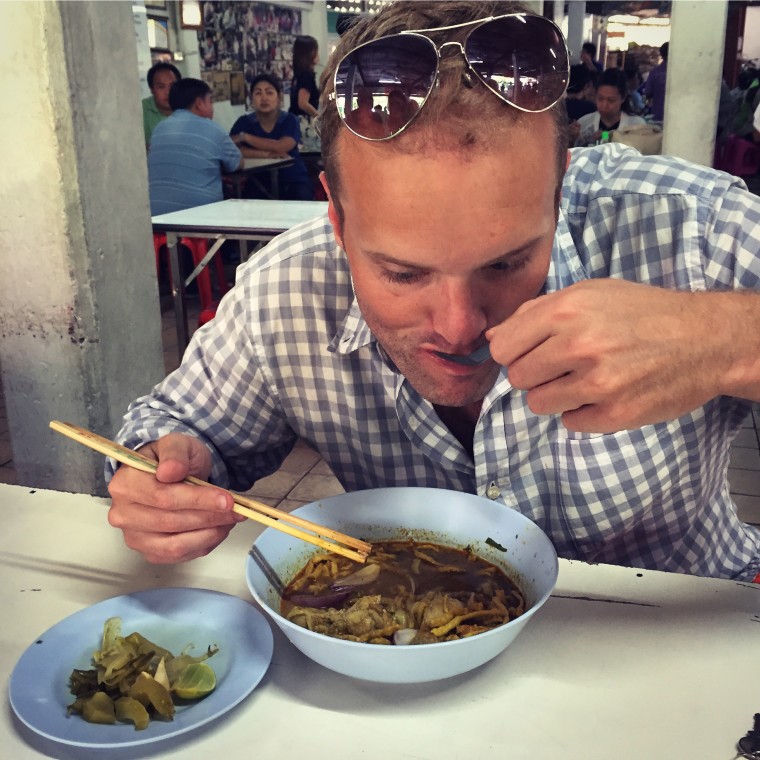 //Trav displays his love of Khao Soi//
Final Word(s)
Here at EPoP, we love traveling and we love eating. One of our favorite parts of traveling is experiencing the local food, which you will miss out on if you don't go up to that road side stand or local shack, as the case may be.
Trav's favorite food in the world is made in a small, local, open air restaurant on the side of a road in Thailand – Khao Soi Mae Sai.
This is not a restaurant I would normally gravitate towards, but without Trav's more adventurous spirit and willingness to eat anything, I never would have eaten the best bowl of Thai curry noodles in the world.
Are you an adventurous eater when  you travel? What is the best food you've ever eaten? We'd love to hear from you in the comments below!
Further Reading (Posts handpicked for you… by us!)
None of that automatic "read more" stuff you'll see everywhere else on the internet!