A Major Hilton Devaluation Is Upon Us: Here's What to Do
It's no secret that I prefer hostels and locally owned guesthouses over chain hotels, but that doesn't mean I don't know a deal when I see one.
And getting to stay 7 nights for free in the Hilton Bora Bora was certainly a deal!
So during my last App-o-Rama in January, I focused mostly on collecting a large chunk of Hilton points.
240,000 Hilton points to be exact.
Add this to the 20k Hilton points I already had and this would be enough to spend 7 days in paradise…for free!  Everything was perfect
Until…
Hilton announced a killer devaluation to their award chart.
First, here are the dirty details.
Warning:  It's not pretty folks, so if you're sitting a large stack of Hilton points, be prepared for quite the gut punch.
Adding Categories
Old:  Currently, there are 7 categories of Hilton hotels plus the Waldorf Astoria hotels.  A category 7 hotel costs 50k a night.  Here is the old chart: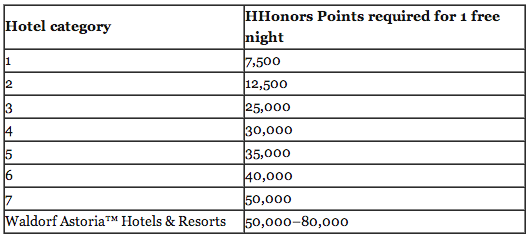 New:  There will now be 10 different categories.  A category 10 hotel will now cost a whopping 95k a night during "peak" season.  This is an incredible 90% increase.  Here's the new chart: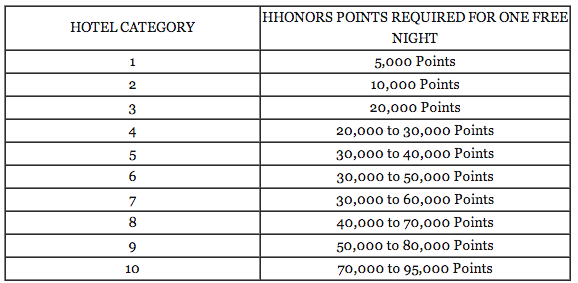 Here's the ugly, side by side comparison courtesy of Gary from View From the Wing:
While the lower category hotels (1-3) have actually gone down, the real reason most people, myself included, collect Hilton points is to redeem them for amazing vacations at their top end properties, like the Hilton Bora Bora or the Hilton Maldives.
Both of these properties used to be 50k a night.  Now, both are 95k a night.  Ick!
Adding Seasonal Pricing
Old:  There was no seasonal pricing.  If a hotel was a category 7, it costs 50k a night, no matter what day or season it was.
New:  Most of the Hilton properties will now have a range of points.  Properties will now be more expensive during "peak" season.  For example, a category 10 will "only" be 70k off-peak, but will jump to 95k during peak.
Talk about adding insult to injury.  Not only are hotels more expensive because they've jumped up in category, but now they will be even more expensive depending on the season.
Oh, and here's the worst part of it all:  According to Lucky at One Mile at a Time, many of the best hotels don't even have the seasonal pricing kick in to effect; they simply stay at the "peak" price all year long!
He gives the example of the Conrad Maldives, which is a category 10 and supposed to bounce between 70k and 95k.  But guess what?
It never goes down to 70k but instead shows 95k for all 12 months of the year.
Talk about false advertising!
5th Night Now Free!
Ok, so after all the carnage, we finally get some good news.
Well….not so fast!
Yes, Hilton will now emulate Marriot and Starwoods and offer a 5th night free for elite members after staying for 4 award nights (you can earn silver elite status simply by opening a Hilton credit card).
However, by using the GLON award chart in the past, Hilton elite members got 15% off stays of 4 nights, 20% off stays of 5 nights, and 25% off stays of 6 nights or more.
Even though I'm no math major, I still know that 20% off a 5 night stay equals getting the 5th night free anyway!
So this "new perk" is actually no better than what already existed, and quite possibly worse if they don't allow you to get 15% off 4 night stays or 25% off 6 nights or more.
The One Piece of "Somewhat" Good News
The change in the award chart does not take effect until March 28, 2013.  This means that you have a little over a month to book your reward under the old award chart.
The actual stay does not have to happen before March 28th, only the booking of the award.
So yeah, that's good at least.
The Plan For Those With Hilton Points
In case you haven't figured it out yet, the main plan is to take your Hilton points, especially if you've been saving them for a specific purpose, and book that trip BEFORE March 28th.
If you're able to do that, then no big loss.  Sure, the devaluation hurts for the future, but in the short term, you're still all set.
Of course, most people will be trying to do this, so award space could start flying off the shelf.
It might get pretty difficult to find availability, especially at the better properties, so the sooner the better.
Also, one little soapbox moment:  While I definitely recommend booking with your points now to get the better deal, please don't  speculatively book properties that you probably won't be able to use.  This takes availability away from others, and in the long run, we're all in this together!
The Plan for Those In the Process of Earning Hilton Points
The biggest loser in all this is the people, like myself, who are in the process of earning large amounts of Hilton points but don't have them yet.
During my January App-o-Rama, I applied for 4 cards that earned me Hilton points.  Currently, I've only met the minimum spend on one of them, as I was focusing on meeting the spending on the few other cards I got during that AoR.
Had I known that the Hilton devaluation was coming, I obviously would have done things differently!
Now, I'm scrambling to make the spending on the remaining three cards as quickly as possible.
Then, I'm praying that the points post sooner rather than later, and that I get my full complement of 240k in my account prior to March 28th.  If not, well, I'll be product of some really bad luck.
If you're in the same situation, I'd highly recommend you finish your minimum spend right away,if possible, and then cross your fingers (I'll cross mine for you) that your points post immediately.
We've got 5 weeks…I'll be turning blue from holding my breath!
Final Word(s)
Overall, this devaluation sucks.  No use pulling punches.
However, the silver lining is that they told us ahead of time and have given us over a month to get in under the old award chart.
If you've been stockpiling Hilton points, it's time to hop on Hilton.com and start planning that trip.
If you're in the midst of earning those points, best of luck to you!
In the long run, this makes Hilton points even less valuable than they already were, and further strengthens the stranglehold that SPG and Hyatt have as the best hotel award programs.
So, those of you with Hilton points, where are you planning your next vacation?  What dream destination will you be booking sooner rather than later?
(photo courtesy of eiauiei)