Traveling Israel Like A Local with Nir and Guy, Co-Founders of Puzzle Israel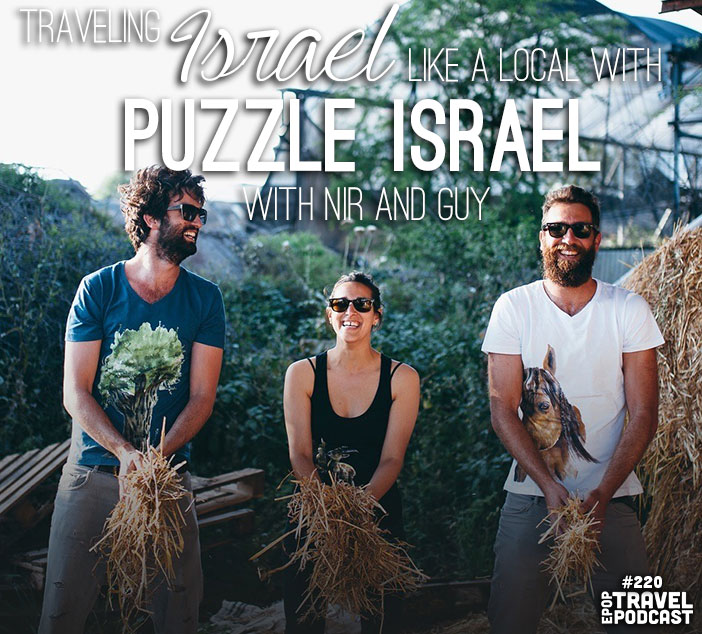 Podcast: Play in new window | Download | Embed
Recently I had the good fortune to be able to travel to Israel with two amazing dudes, Nir and Guy.
As local Israelis, they had the idea to bring people to Israel and show them around…as locals.
Add to that the promise of delicious foods (they both have culinary backgrounds) and I was hooked.
Since I'm always trying to experience places more authentically this seemed like the perfect type of tour for me, so I gave it a go.
And it BLEW ME AWAY.
I ate delicious food, made a bunch of friends, and was able to understand this complicated and thrilling country through the eyes of locals.
Nir and Guy have done something awesome by creating a boutique travel company that is going to turn the tour industry on it's head, and today, they reveal how it all started (with a dream…and some beer), where it's going, and why they are doing something no one else in Israel is attempting to do.
And don't forget…for a special discount and a VIP experience, check out Puzzle Israel and mention that Trav from Extra Pack of Peanuts sent you!
Right click to download this episode directly
Interested in becoming Location Independent? Check out Location Indie, a community of people who share your dreams!
Today's episode has been sponsored by our friends at Tortuga Backpacks!
Check out the entire library of EPoP Travel Podcasts on iTunes
In This Episode
07:00 Authentic travel
15:00 Working around what you want YOUR trip to be
18:00 The future of Puzzle Israel
20:00 Amazing activities that I never would have found on my own.
27:00 Two chefs running a tour company? I was hooked.
34:40 Need a break? Boutique travel allows for your schedule!
37:24 Thoughts on the safety of Israel
42:18 Travel Mishaps for Guy and Nir
48:21 How to find Puzzle Isreal and a special offer just for you!
Links
Want More?
Leave a Review!
iTunes reviews are one of THE most important factors for podcasts. If you enjoy the show please take a second to leave the show a review on iTunes!
Click this link: Leave a review on iTunes
Hit "View in iTunes" on the left hand side under the picture.
Leave an honest review.
You're awesome!