Israel Fascination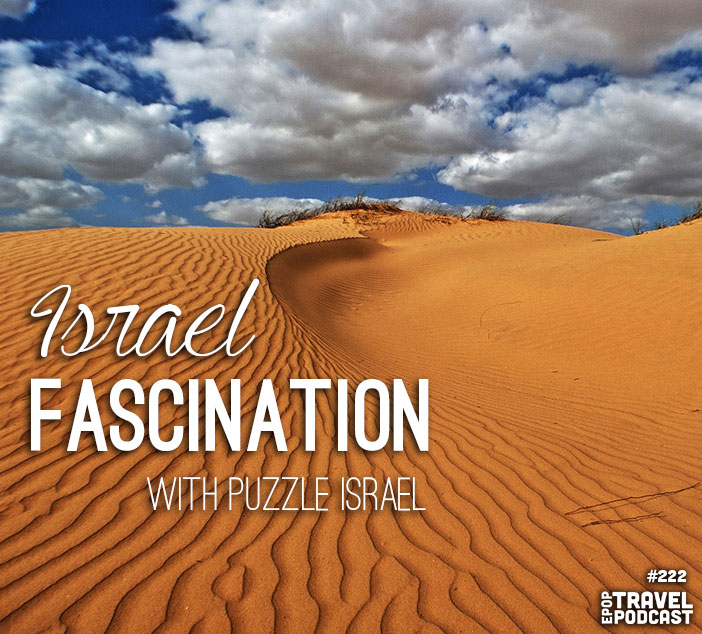 Podcast: Play in new window | Download | Embed
When I returned from Israel, I released a podcast with Puzzle Israel founders Nir and Guy that talked a bit about the tour that I went on.
But we didn't really get into the activities that we did, and the experiences that we had that were so impactful.
So we've decided to release another podcast today with listener favorite, Napkins, joining me to flip the script and ask ME some questions about my trip to Israel.
We discuss everything from the theoretical to the actual. My knowledge before going to Israel (nothing. I didn't even know there was a desert!) to how much I've learned since visiting, some of the amazing experiences that I had along the way, and how breaking my phone made all the difference.
Israel is a fascinating country, and I highly recommend a visit, hopefully after this talk you'll be pumped and ready to add it to your (ever growing) travel list!
Right click to download this episode directly
Interested in becoming Location Independent? Check out Location Indie, a community of people who share your dreams!
Today's episode has been sponsored by our friends at Tortuga Backpacks!
Check out the entire library of EPoP Travel Podcasts on iTunes
In This Episode
04:00 Why I decided a group tour
09:00 Thousands of years of history
18:30 Such varied geography
23:40 First impressions & broken phones
32:00 The itinerary
55:00 2 extra days
57:17 Hearing about the conflict from people who have lived it
69:00 Safety on the tour
74:00 A trip to Jaffa
Links
Want More?
Leave a Review!
iTunes reviews are one of THE most important factors for podcasts. If you enjoy the show please take a second to leave the show a review on iTunes!
Click this link: Leave a review on iTunes
Hit "View in iTunes" on the left hand side under the picture.
Leave an honest review.
You're awesome!