EXPIRED: Chase Ink Bold and Ink Plus Bonus Increased to 60k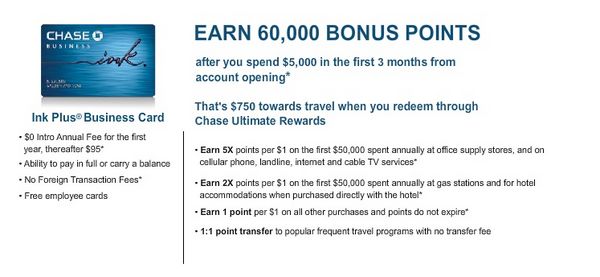 This offer has expired, and the Ink Bold card is, sadly, no longer available.
When it rains increased sign up bonuses, it pours!
Yesterday, I wrote that the Barclays USAirways card increased it's public offer to 40k, and today, it gets even better.
My absolutely favorite business cards, the Chase Ink Bold and the Chase Ink Plus, have increased their sign up bonus to 60k after spending $5,000 in  3 months.
The regular offer is 50k after spending $5,000 in 3 months.
I don't know when this offer will be over, but it does state that it is a LIMITED TIME offer.  Last June, this offer last 1 week.
Why The Ink Bold and Ink Plus are Great
These cards are essentially identical, with the lone exception being that the Ink Bold is a charge card (you must pay the balance off in full each month) whereas the Ink Plus is a credit card.  I always recommend you pay off your balance in full no matter what card you have!
Here are the highlights:
They earn Chase points, which are my favorite type of frequent flyer currency because they are so flexible.  They can be used to transfer to United, Southwest, and Hyatt, among others, and also used as "cash" to purchase a ticket on any flight.
They earn 5x on cable, internet, and cellphone bills.
They also earn 5x at office supply stores.
They earn 2x on gas and hotels.
No foreign transaction fee.
Annual fee waived the first year.
Basically, if you can meet the minimum spend on these cards, getting one of these cards is a no-brainer.  I use my Chase Ink Bold as my everyday spend card.
To read more about these cards, check out 6 Reasons to Fall in Love with the Chase Ink Bold.
Can I Get Both Cards?
Yes, because they are technically different cards, you can get both cards and get the sign up bonus for both.
However, you CAN'T apply for both at the same time.
You should wait at least 91 days in between applications.
I'd recommend getting the Chase Ink Bold first, and the Chase Ink Plus later.
Final Word(s)
As long as you can make the minimum spend requirement, I recommend jumping on this card now.
60k is one of the best sign up bonuses out there (and 10k more than the regular bonus).
I personally have both the Chase Ink Bold and the Chase Ink Plus, and use them all the time.  But I only got the 50k bonus, so I'm jealous of anyone who applies now!
If you do choose to apply and send me an email at trav@extrapackofpeanuts.com to ask for a link, I truly appreciate the support. 
Any questions, please let me know in the comments below